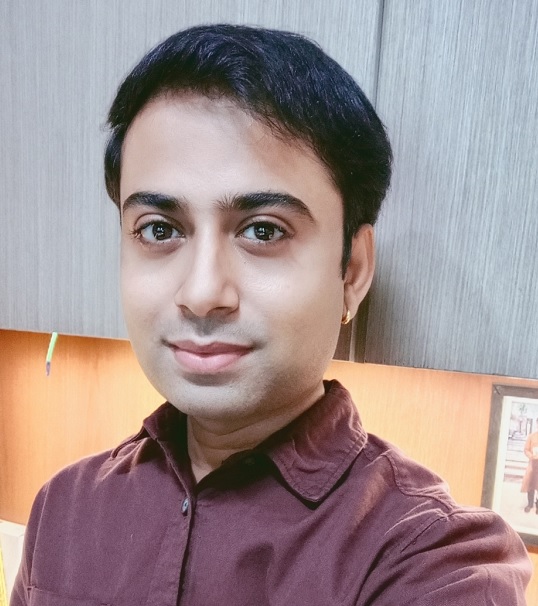 Ritesh Haldankar
Assistant Professor, In-Charge – Soft Skills
Academic and Professional Qualification
Pursuing PhD in Management (Behavioural Sciences), SBM Mumbai
Master Practitioner of Neuro-Linguistic Programming
Cambridge TKT (Teaching Knowledge Test), University of Cambridge – Cambridge English Teaching Qualification, 2017 – First Class
MSc Psychology, Acaharya Nagarjuna University, 2017 - Distinction
MA English Literature, IGNOU, New Delhi, 2015 – First Class
BA (Major) English Literature, IGNOU
Certifications
Practitioner in Neuro-Linguistic Programming and Ericksonian Hypnosis– ANLP India, 2011
Manager as a Catalyst – Atos Syntel, 2015
Management and Leadership Development Coaching – Atos Syntel, 2015
Leadership Effective Acceleration Programme – I & II, 2014 and 2015
Gestalt Psychotherapy – Practitioner Certificate, TTGLS, 2018
Certified Appreciative Coach and Counsellor, Middle-Earth HR, 2016
Cambridge English Licensed Speaking Examiner, General and Business, B1, B2, and C1. – University of Cambridge (Recurring)
Industry Experience: 13 plus years
Manager – Global HR Talent and Leadership Development, Willis Towers Watson, Mumbai
Deputy Manager – Atos Syntel, English Language and Behavioural Training Specialist, Mumbai – KPO and IT
Executive – Pre-process Training (Communication and Culture Trainer) – Firstsource Solutions, India
Voice and Accent, and Culture Trainer – Various MNCs, BPO,
Cambridge Speaking Examiner – The English Advantage
English Proficiency Test Administrator and Advisor – St Pius X College – Major Archdiocesan Seminary of Mumbai
TEACHING/COURSE TAUGHT – Teaching Experience of 2 Years at NMIMS
Management Communication (Oral, Written, and Business Communication and Analysis) – Full Time MBA

Communication Strategies for Leadership I & II – EMBA

Business Communication Etiquette and Mannerisms in Retail Banking – ICICI Bank YLP
Business Communication – PGDM Real Estate

Life-Skills (Soft Skills and Employability) – MPhram + MBA

Life Skills – Soft Skills and Employability for the Department of Life-Skills, Mumbai
Expertise and Research Interest
Membership
Association for Business Communication
ANLP India
Thrive Global
The English Advantage – Cambridge English ESOL Assessments
British Council – Cambridge English ESOL Assessments
Research interest
Business English and linguistics
Oral Communication and its impact on perception
Soft Skills and employability
Selected Publications
(last five/six years)
On Developing Your Voice – Article published in Thriveglobal.com and LinkedIn
Conferences and Workshops
(last five/six years)
Attended TTT conducted by NMIMS Department of Life Skills
Conducted NLP Workshop faculty of the Department of Life Skills
Attended an online training programme called 'Online Teaching for University Teachers' conducted by All India Management Association, New Delhi.
Consulting/Research Project
Strategic Review of Save Our Sister, STCI, Mumbai.
Contribution to Community
Actively participate in the We Care Internship
Referee for international journals
Awards
In Firstsource Solutions Ltd., successfully led two UK based pre-process ramps and delivered consistent 95% of training yield (Banking and Financial Process, and Telecom Process) and was awarded 'Extra Miller Award'.

In State Street Syntel Services Pvt. Ltd., successful established Centre of Linguistic Excellence and launched 'Academy of Linguistic Excellence' and 'NLP'. Also, was awarded the prestigious 'Extra Miller' award, Support recognition award, and various appreciations from Sr. Executive population.

Have been recognized, awarded and appreciated for programmes conducted for communities in Archdiocese of Bombay
Media and Coverage
My interview on choosing Counselling & Psychotherapy as a career has been featured in the newspaper Afternoon Dispatch & Courier
An article on hypnosis and therapy was published on Syntel magazine.
My short interview on family therapy was showcased in Times of India edition.
© Copyright 2013-2020 | Disclaimer | Privacy Policy