Introduction
Law and business are more interconnected than ever. As we move forward lawyers will need to have deeper business insights with an understanding of corporate strategies, marketing, finance, operations and human resource management, organizational dynamics, business risks and compliance requirements. They need to have appropriate soft skills and inputs for emotional intelligence for achieving better application orientation with quality and speed of deliverable. More and more corporations have turned to lawyers to serve as CEOs or in other business roles, especially when the firms operate in highly regulated markets.
NMIMS, School of Business Management has developed a two year MBA program to address the needs of students interested in business and law.
MBA (Law) bridges the knowledge gap by bringing management and law together. All the MBA courses teach management skills but they remain lacking in the knowledge of Corporate, IPR, Cyber and Commercial Laws. In the current scenario, more mergers and acquisitions are taking place and a mere law graduate or a mere MBA graduate may not be capable to handle such cases.
SBM, NMIMS' MBA (Law) Program is the first program of its kind in the nation. It equips its students for success, whether they aspire for leadership in business and know the value of legal expertise, or whether they're primarily interested in a career in law but seek a solid foundation in management.
There are several advantages of having leaders with a lawyer's eye for detail and a manager's understanding of the business process in an organization. A few of the benefits to the organization enlisting the services of leaders of such background are:
Reduction in external legal spending.
Better management of the in-house legal department.
Risk management.
Corporate governance and compliance
Leadership which can understand the changing needs of the business in a highly dynamic global scenario
Why MBA (Law)?
MBA (Law) Program will prepare students with the necessary knowledge and skills of business administration along with enhanced knowledge of business laws both from domestic and global perspectives. It will also provide application orientations to all young lawyers aspiring to excel in the corporate and consulting world, with explicit skill sets for business administration and major relevant laws.
Programme Objective:
Enrich knowledge with enhanced and expanded inputs for skill development related to various facets of management and administration, analyses of business data, multimodal communication and legal drafting skills.
Deepen and hone their skill sets with a fusion of management skills with application orientation.
Enable themselves to think more practically with analyses of business information and effectively apply legal knowledge from the perspective of business needs, including matters related to off-shore transactions and transformation towards a digital economy.
Equip with additional capabilities for understanding and resolving critical business problems, emerging perilous dimensions of VUCA elements and legal matters with a practical business orientation
Gain skill sets in matters of laying down legal briefs, policy documents, standard operating and monitoring procedures for execution of business decisions, etc. in total compliance with laws, regulations, governance requirements, risks and sustainability management, etc.
Career Prospects
Major sectors needing these professionals are Manufacturing; Service Industries; Government and PSUs; FMCG; Infrastructure; Education; Healthcare; Retail; Tourism and Hospitality; Automobile; Banking; Finance; Insurance, Consultancy.
Roles
MBA (Law) graduates can assist these industries in the following areas.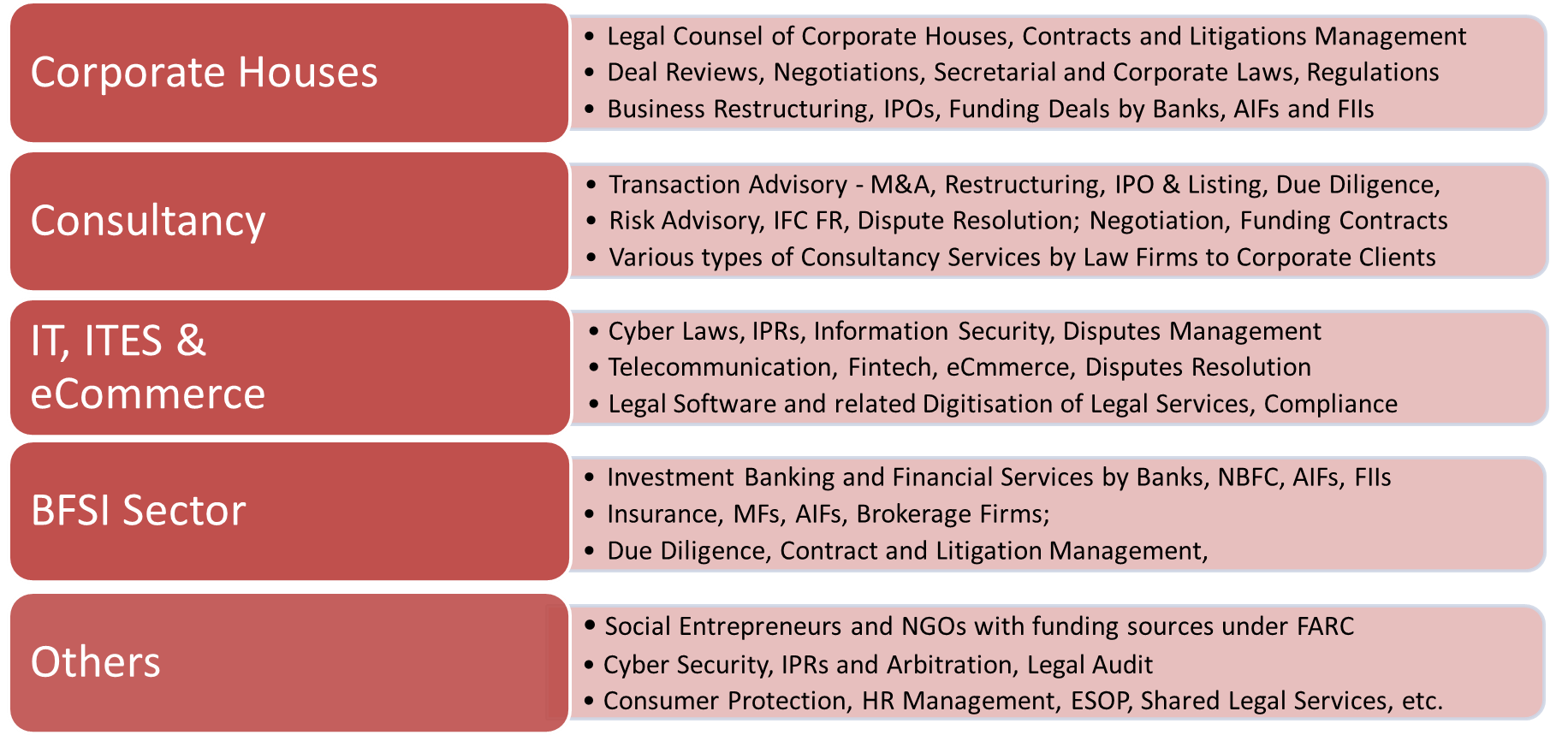 In House Counsel: These attorneys assist large businesses with the management of their legal affairs. They are also responsible for developing legal policies that guide the business operations of the company. The MBA (Law) graduate provides a large benefit since clients are business unit leaders and could ask questions about structuring deals, contracts and even approaching litigation.
Management Consultant: These consultants help businesses improve their performance by focusing on business strategy, structure, management and operations. The business fundamentals learnt in business school and the logical reasoning obtained in law school make MBA(Law) graduates a great choice for such roles.
Business Law: Corporate lawyers handle complex transactional matters involving business mergers, acquisitions and corporate restructuring. They may also deal with real estate transactions, intellectual property, private equity and white-collar crimes.
There might be an amalgamation of these roles or just a standalone portfolio. But MBA(Law) graduates are going to be trailblazers and highly sought after professionals in the changing phase of our economy and any organisation which inculcates these professionals is bound to benefit immensely.
Program Pedagogy and Design
Distinguished faculty from academia, the legal world and industry will deliver the program through lectures, presentations, and contemporary simulation-based interactive case studies to facilitate the application-oriented practical implementation of theories and concepts.
Students will be engaged in discussions based on pre-circulated published papers, case studies and small cases with complex problems drawn from critical issues faced by industries. Case studies from HBS Case Library for management subjects and Supreme Court / High Court cases for law subjects will be discussed for analytically dealing with various types of problems and issues related to legal and business management related courses as well as tools and methodologies for resolution thereof. Students will also be exposed to management films and lectures of renowned professors and world-class consultants/practitioner's. Some of the classes will be conducted in a workshop mode for bringing in application orientation.
Students will also be benefited by working on assigned research-based as well as clinical mode projects and collective / shared learning from writing papers and short presentations on assigned projects covering the course content.
Programme Structure and Course Content
The program has been scheduled with six trimesters, divided into two years of three trimesters each and one Summer Internship of eight weeks
Out of total thirty-eight courses, sixteen are related to Law and twenty-two are related to Management area. Total credits are 114 plus six credits for a Research Paper of 6 credits
Students will also be benefited by working on assigned research-based as well as clinical mode projects and collective / shared learning from writing papers and short presentations on assigned projects covering the course content.
Twenty-Two Management courses have been divided in the following manner in two years over six trimesters with credits stated alongside:
Economics – 1
Operations and decision sciences – 1
Statistical Analysis – 0.5
Operations Research – 0.5
Marketing – 2
Human Resources – 3
Business Environment and Strategy – 3
Communication including Negotiations – 3
Finance – 9
Eligibility and Seats
The candidate should have passed in the examination conducted by a recognized University leading to award of LL.B. /B.A. LLB /B.B.A. LLB /B.Sc LL.B ./LL.M. degree (minimum 50% in final year examination or aggregate in all years).
Candidates who have appeared for the final year examinations may also apply. Their initial admission, if selected, will be provisional and will be confirmed after submission of the final year/semester/trimester mark sheet and fulfilling the eligibility criteria for final percentage/marks.
Candidates who have duly passed the final examination conducted by the Institute of Chartered Accountants of India, the Institute of Cost Accountants of India or the Institute of Company Secretaries of India (Any one)
Candidates who have cleared their graduation by doing a part-time course or through distance learning, correspondence courses, externally, open school from recognized University are eligible to apply and register as per UGC guidelines.
Numbers of Seats: 40
Application Procedure
Online registration at www.nmims.edu
Before filling the online form, please read all the instructions mentioned in the instruction sheet and also refer to the important dates.
Online Registration Fees is Rs. 2,000/- plus taxes (This is a one-time fee, no fees will be charged for Personal Interview)
Registration Fees are non-refundable.
Payment of registration fees can be made by credit card (visa/ master).
Selection Procedure
Written Test conducted for MBA (Law) Program by NMIMS
OR
Candidates with GMAT score of 600 and above (GMAT score of last 5 years will be considered)
OR
Candidates with a score of 200 and above in NMAT by GMAC for 2020 admissions
AND
Personal Interview
MBA (Law) Sample question paper
© Copyright 2013-2020 | Disclaimer | Privacy Policy