Overview
The program offers an opportunity to a working executive to acquire a high-end compact management qualification through rigorous and qualitative in-class learning and also practical exposure through the industry expertise brought to the program by NMIMS faculty. This program is meant for executives who are seeking to upgrade their qualifications by acquiring a widely acclaimed MBA degree.
The MBA (Part-Time) program strives to develop professionally competent and socially sensitive business managers who will impact their organizations and the larger community more meaningfully through their contribution.
Why MBA (Part time)
The MBA (Part-Time) program strives to develop professionally competent and socially sensitive business managers who will impact their organizations and the larger community more meaningfully through their contribution.
It focuses to achieve Goals as: -
To provide holistic education to executives to enhance their employability
To be the preferred executive education program of choice
To expose working executives to contemporary trends and practices in management
To provide excellent academic resources coupled with industry best practices to boost the managerial competence of executives
The MBA (Part-Time) program is meant for executives who have spent quality time in the industry and have adequate exposure to managerial roles and responsibilities. The two - year MBA (Part-Time) program will offer an opportunity for participants to hone their managerial skills and enable them to contribute better to their managerial decision making.
The program covers several aspects of managerial functioning that are critical to a manager's effectiveness. It also focuses on decision-making situations that enable the participants to understand the nature of management situations, develop frameworks to analyze these situations, generate and evaluate options, and choose an appropriate option based on available information. Developing a strategic perspective is an important focus of the program as it would help the participants to develop competencies to analyze the linkages within the business and with the external business environment. This enables the participants in formulating comprehensive and internally consistent strategies for the business unit and in thinking through the issues in implementing them.
The cases reflecting global management experiences will provide participants with an opportunity to discuss issues and challenges in their context. The program offers an enriching interaction and academic orientation to the executive who seeks to achieve a work-study balance and seeks to boost his or her career through an industry-recognized MBA
Career Prospects
The two year MBA (Part-Time) Program brings the coveted MBA to a working executive. This is a win-win proposition for those students who look for upgradation of their academic qualifications while retaining their job.
The MBA (Part-Time) is designed to offer enough flexibility to a working executive to learn in well-timed sessions which are set in a highly interactive academic ambience. It provides an opportunity for very strong peer learning which reinforces the academic concepts.
The MBA (part-time) Program is one of the widely recognized MBA programs and due to its well-researched content and pedagogy, it is perhaps one of the best investments in education for any working executive.
Batch Options
Weekend Batch I & II (Saturday)
3.00 pm to 6.00 pm
6.30 pm to 9.30 pm
Weekend Batch I & II (Sunday)
9.00 am to 12.00 pm
12.30 pm - 3.30 pm
Weekend Batch II (Sunday)
PEDAGOGY
The Institute believes that self–learning is the best means of learning, especially at the postgraduate level, and accordingly, faculty should act as facilitators more than teachers.
A great deal of emphasis is therefore placed on experiential learning. Students are required to work on a number of corporate and academic research projects during the two years they are on campus. In addition, teaching is heavily oriented towards case studies, presentations, quizzes and assignments.
There is a strong belief in 'learning by doing' at the University and in the dictum that true management education goes beyond the classroom.
Course Structure
Trimester I
• Managerial Economics
• Marketing Management
• Financial Accounting for Business
• Statistics for Business
• Oral Communications
• Individual Dynamics and Leadership
• Audit Workshop - Environmental Management and Green Initiatives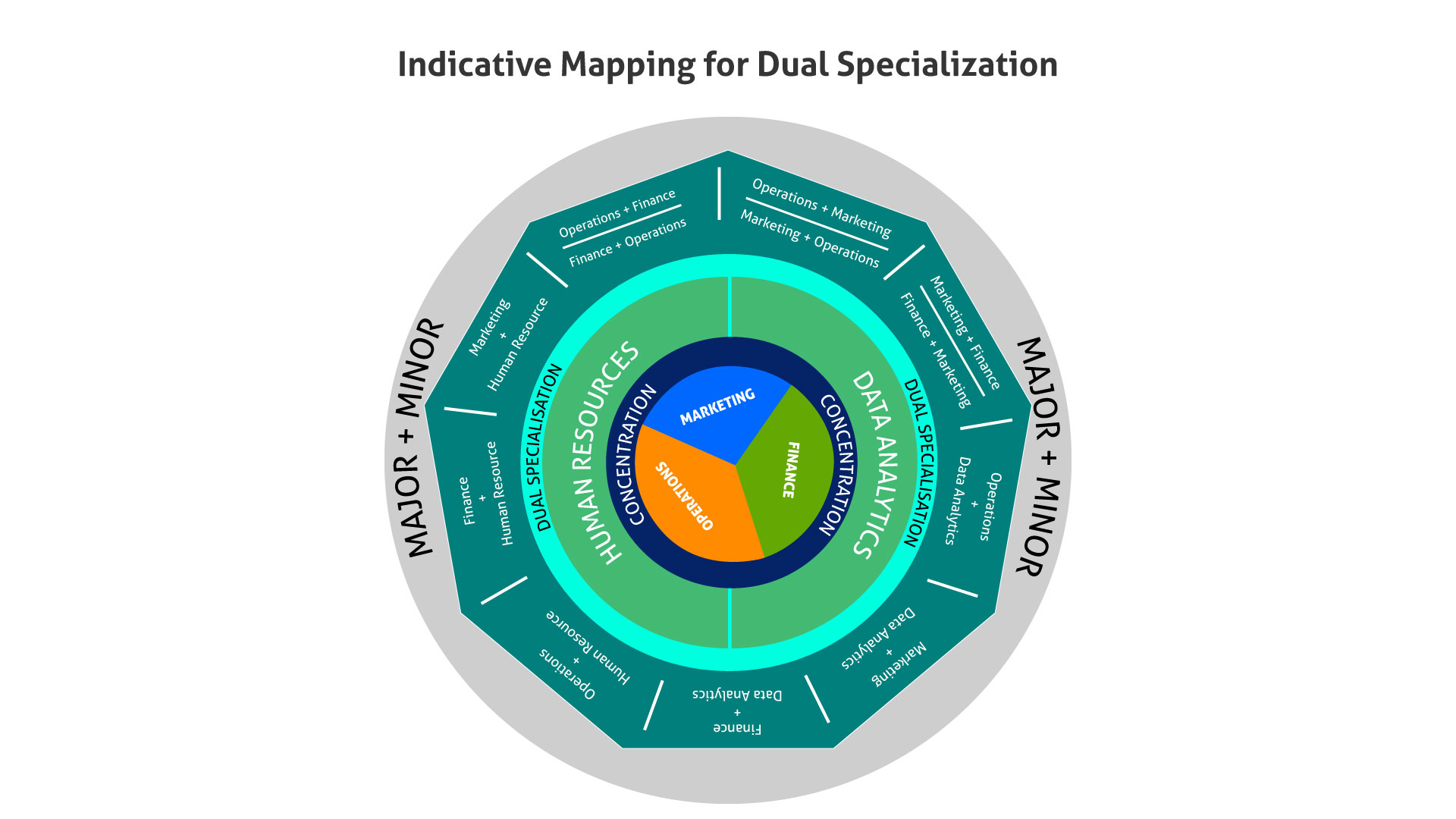 Trimester II
• Operations Management
• Team and Organizational Dynamics
• Macroeconomics I
• Management Accounting
• Business Communications Part I
• Strategic Management
• Audit Workshop - Bloomberg Laboratory
Trimester III
• Strategy Implementation
• Management Information Systems
• Human Resources & Change Management for Practicing Executives
• Business Communications Part II
• Macroeconomics II
• Marketing Research & Planning
• Audit Workshop on Business Simulation
Summer Trimester
• Block Chain
• Data Analytics for Business Development
• Ethical issues in Management
• Corporate Social Responsibility
• Entrepreneurship
Trimester IV
Compulsory

Decision Analysis and Modelling

Finance Area

International Finance

Fixed Income Securities and Debt Market

Infrastructure Project Financing

Investment and Portfolio Management

Strategic Financial Management

Organization Theory Structure and Design

Industrial Relations and Labour Laws

Recruitment and Selection

Behavioral Dynamics in Organizations

Learning and Development

Marketing of IT products and solutions

Software Project Management

Business Analysis

Big Data Analytics

Strategic Business Process Outsourcing

IOT and emerging technologies

Marketing Area

Sales and Distribution Management

Consumer Behavior

Market Research

Brand Management

Digital Marketing

Advanced Method of Data Analysis

Logistics Management

Total Quality Management
Trimester V
Compulsory

Legal Environment

Finance Area

Private Equity and Venture Finance

Commercial Bank Management

Futures & Options

Performance Management Systems

Change Management and Organizational Development

Compensation and Benefits

International HRM

Talent Management and Career Planning

IT Service Management – Current Trends

Business Process Management

E - Business

Digitization Strategy

Designing and Managing Information Security

Marketing Area

Marketing Strategy

Integrated Market Communication

Services Marketing

Retail Marketing

Supply Chain Management

Project Management

Operations Strategy

Modelling for Decision Making

Predictive Analytics
Trimester VI
Compulsory

Corporate Taxation

Finance Area


Hedge Funds

Real Estate Financing

Fundamental and Technical Analysis

Insurance and Financial Risk Management

Strategic Cost Management

Human
Resources and Behavioral Sciences

Organization Culture and Work Life Balance

Strategic HRM

HR Audit

IT in HR

Information System

E - Governance

Business Dynamics of the IT Industry

Technology Ventures

Business Innovation through IT

Marketing Area

Rural Marketing

B2B Marketing

International Marketing

Customer Relationship Management

Operations and Decision Sciences

World Class Manufacturing

Service Operations Management
Disclaimer: Course contents and trimester allocaon of courses are subject to change depending upon the connuous upgrading policy.
PTMBA programs would be on weekdays (Monday to Friday) and Weekends (Friday – Saturday – Sunday).
80 percent Attendance is Compulsory in each subject, failing which students are not allowed to appear for examinations.
Eligibity Criteria
Graduation from a recognized University in any discipline.(Distance/Part time/Full time )
Minimum 3 years work experience in executive or supervisory capacity or self-employed after completion of graduation & up to the date of written test/personal interview.
**The work experience should be full time experience and should NOT include internships, projects, training period, trainee (management, engineering) etc.
Total No. of Seats: 180
Application and Selection Procedure
Online registration at www.nmims.edu
Before filling the online form, please read all the instructions carefully mentioned in the Instruction Sheet and also refer to the Important Dates.
Online Registration Fee is Rs. 2,000/- (This is a one-time fee, no fees will be charged for Personal Interview)
Registration Fee is non-refundable.
Selection Procedure:
Written Test conducted for MBA (Part-Time) by NMIMS.
OR
Candidates with GMAT score of 600 and above (GMAT score of last 5 years up to the closure of registrations will be considered)
OR
Candidates with a score of 200 and above in NMAT by GMAC examinations for 2020 admission
AND
Personal Interview
Examination and Degree
The course has 102 credits, with each credit being equivalent to 10 hours of teaching totaling to 1020 hours of classroom lectures plus 30 hours of value added workshop. Each course of 100 Marks will receive 3 credits and a 50 marks course will get 1.5 credits. In every trimester we have approximately 15 credits – Under examination & degree
Alumni Speaks
© Copyright 2013-2020 | Disclaimer | Privacy Policy