Overview
Alumni serve as a bridge between the corporate world and the Business School. They are very important stakeholders of the School. The alumni of SBM have formed a not-for-profit organization under the name NMIMS Alumni Association. It is a company incorporated under Section 8 of the Indian Companies Act. The Vice-Chancellor of the University and the Dean of the Business School are ex-officio members of the Board of Directors of this company. The association has a full-time executive and is also supported by student alumni cell of SBM. In addition, a full-time faculty member is assigned the responsibility to coordinate with the alumni association and the student alumni cell. The alumni actively participate in the life of SBM through the following:
Eliciting thought leadership

Creating an environment of psychological safety

Participant-centered learning pedagogies

Promoting social equity to build sustainable communities

Global orientation
Eliciting thought leadership

Creating an environment of psychological safety

Participant-centered learning pedagogies

Promoting social equity to build sustainable communities

Global orientation
Message from the management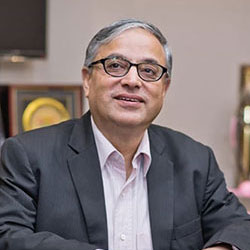 DR. RAMESH BHAT
Vice-Chancellor, NMIMS
I have had the pleasure of meeting innumerable alumni across the globe and getting a real sense of the special community we have here at SBM, NMIMS. SBM is more than just the place where you spend a couple of years earning a degree. It's where you form meaningful personal and professional connections that will last throughout your life and career.
You are a part of an extended family of 23000+ alumni across the globe, that is growing each year. Alumni from different programmes and different batches make this community vibrant. The members of this community have the potential to be the biggest champion for each one of us. For that we need to be more connected, we need to be able to reach out and to open doors for each other.
With our pan India chapter meets, and also branching internationally, we strive to strengthen our ties with the fruits of this institution. The guidance provided by our alumni has immensely contributed to the overall growth and expansion of the University. This support and sense of nurturing have contributed significantly to the development of student career paths.
NMIMS will continue to grow on your support. As your professor and Vice-Chancellor of the University, I urge each one of you to come forward to make NMIMS one of the truly most aspirational Business School of India. We aim to develop, enhance and support a network of mutually beneficial and enduring relationships with alumni, students, faculty and the School. SBM is for Life.
Seema Rawat
Chair- Alumni and Industry Relations
The alumni relations at School of Business seeks to reach, serve and engage all SBM alumni and students; to foster a lifelong intellectual and emotional connection between the Business School and its graduates; and to provide the University with goodwill and support.
With more than 600 members joining the group every year, the alumni network with about 23,000 members currently is growing stronger year on year. The members are spread both nationally and internationally, as entrepreneurs and as business leaders. Their contributions have been acknowledged by organizations and institutions as they have marched ahead creating value and opportunities on the way. SBM thoroughly values this community and its relationship with them.
To strengthen the existing threads and weave many a new, the triad of the School Of Business Faculty and Staff; the Alumni Association and the Alumni Relations Cell Student Committee ( ARC), devote themselves to this cause. Over the course of an academic year, with the support of the Alumni Association and the efforts of the ARC, we host various online and offline events for alumni engagement, a place to cater to your nostalgia, re-visit your memories and catch up with your friends, leaving no stone unturned to make your time memorable. At the same time, we strive to support our alumni as they incubate their own ventures, lead initiatives at business organizations and strive for social progress.
As a member of the SBM family, I look forward to hosting you at your campus. I also seek your support and active involvement to galvanise SBM and take her to new heights. May your tribe increase.

Eminent Alumni
Connect with the revered members of the NMIMS Alumni community
Vighnesh Shahane
CEO and Whole-Time Director IDBI Federal Life Insurance
Joined IDBI Federal Life Insurance as President, Bancassurance | Worked with well-known financial services organisations like ANZ Grindlays and Standard Chartered Bank in India, and Mashreq Bank in the UAE Played Ranji Trophy for Mumbai for 3 years | Completed marathons in Mumbai and Dubai.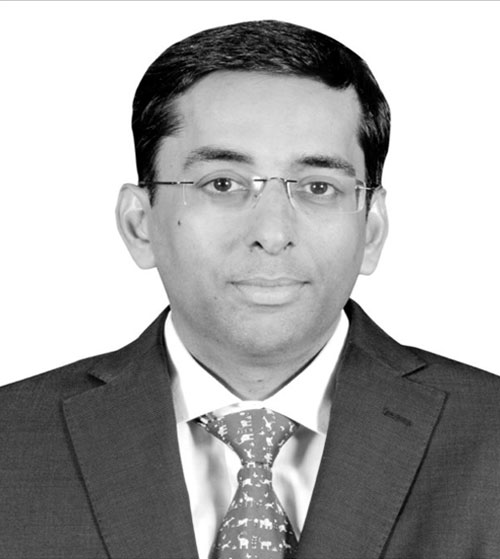 Ashish Gupta
Managing Director and Head of Research, Credit Suisse India
Leading top rated Indian equity team for a decade Highly regarded financials analyst credited for identifying the NPL cycle in Indian banking | CFA and MMS (Finance) | Campaigning for social causes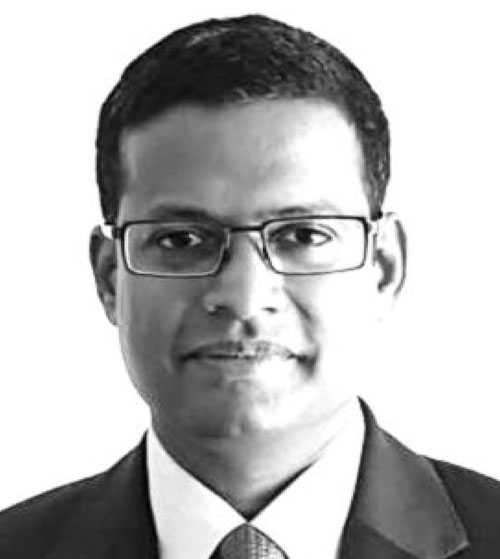 Prashant Pillai
Managing Director and Head Global Transaction Banking (GTB), Asia First Abu Dhabi Bank (FAB)
Spearheading the strategy and execution for the GTB business across Asia region | Extensive leadership experience across sales, product management, advisory, technology, client servicing and operations | Cost Accountant, Certified Documentary Credit Specialist (CDCS) and MMS (Finance) | Soccer Enthusiast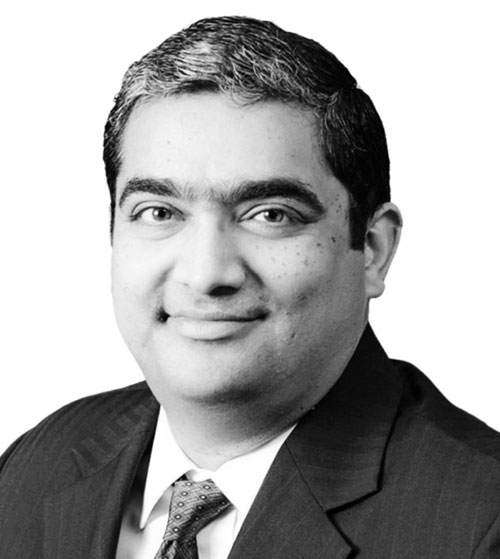 Purav Zaveri
Managing Director, Investment Strategy/Por􀆞olio Manager, Franklin Templeton Investments, Palo Alto, CA, USA
Over twenty five years of global investment management experience, overseeing a USD 350 Bn equity pla􀆞orm | Presenter of Investment Outlook to clients, media and at thought leadership events including at the Harvard Business School, and on CNBC and Bloomberg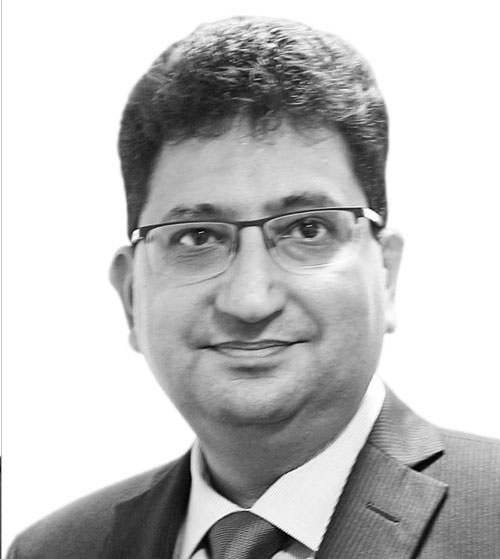 Adil Vazifdar
Partner, Management Consulting, KPMG India, Mumbai
Leader in business and IT consulting services | Setting up new businesses and running successful P and Ls Entrepreneur | Cloud Evangelist | CRM and Digital Expertise across industries Managing virtual teams across large matrix organisations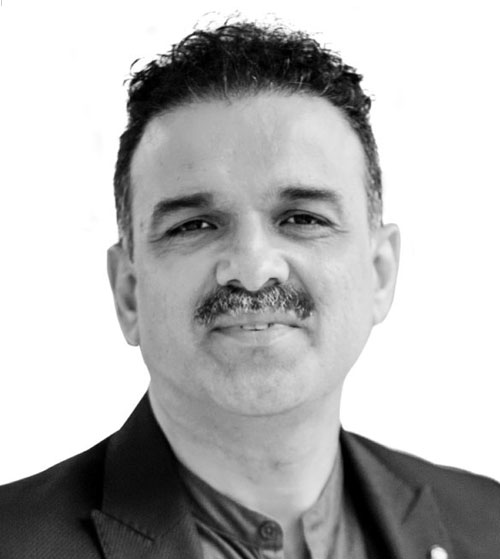 Kamlesh Rao
Managing Director, Kotak Securities Ltd.
Extensive experience in Banking and Financial Services sector | Proficient in entering and setting up new markets/businesses | Synergy Builder | BE Honours in Instrumentation and Computers and MMS (Marketing)
Ashutosh Tyagi
Head of Social Finance India, India Education Outcome Fund
Former Tata Administrative Services | Rich cross functional and cross sectoral experience ranging from consumer goods companies in the sales and marketing function to investment management in the holding company | Alumnus- Harvard Business School | Avid trekker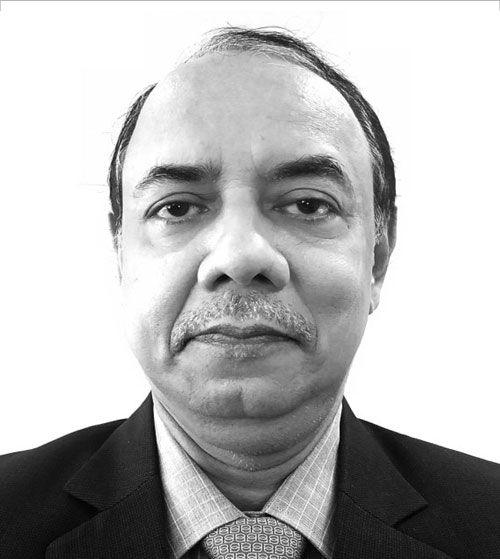 Rajesh Mokashi
Managing Director and CEO, CARE Ratings
Expert in Risk Management | Amongst the initial Management team which built CARE Ratings 25 years' experience of Credit Ratings @ CARE | Successful IPO | International expansion First acquisition of CARE Risk Solutions | BE Mechanical, MMS, CFA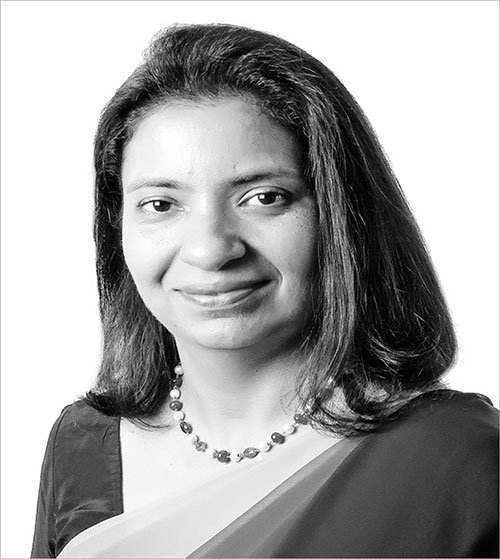 Hetal Dalal
COO, Institutional Investor Advisory Services India Limited
Improving corporate governance standards in India by influencing corporate behaviour | Extensive credit ratings experience with CRISIL Limited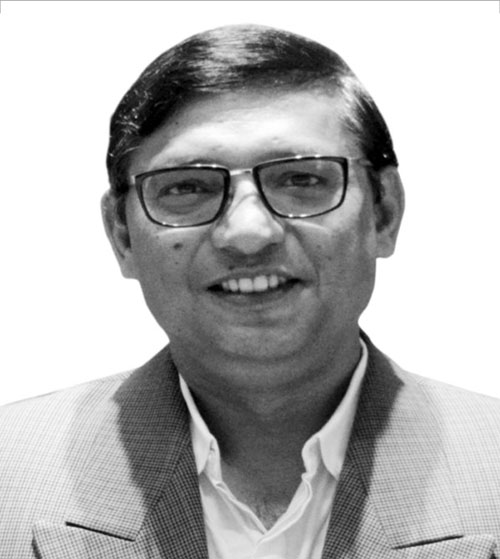 Amit Bansal
Partner, Financial Advisory Services, Deloitte
Assisting Corporate India in improving Ethics and Integrity in business practices & resolving Commercial Disputes | Investigating fraud and misconduct | Improving Compliance Culture Bachelor in Engineering and PGBDA (Finance) | Exploring new horizons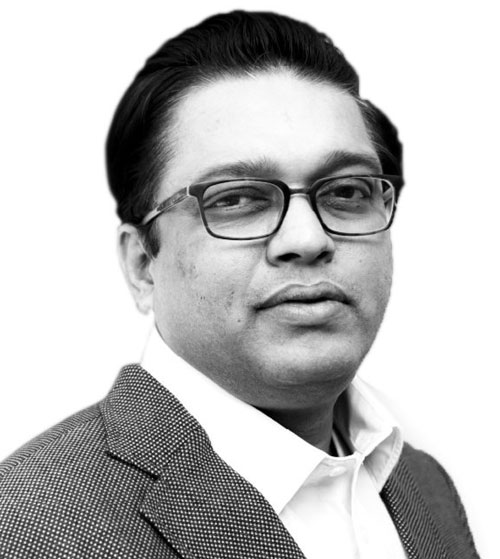 K. Yatish Rajawat
Editor in Chief, DNA Newspaper
Award-winning Journalist | Thought leader on policy, economics and technology | Known for creating and leading newsrooms and digital start-ups | A mentor and advisor to several think tanks across India, Singapore and Australia | Awarded the Technology journalist in 2002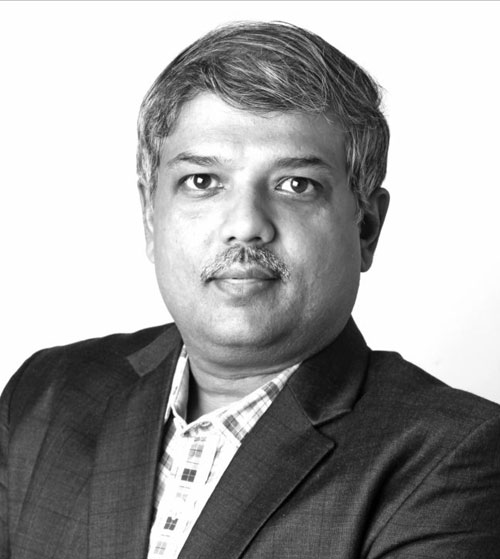 Amit Wagh
Global Vice-President, Cognizant Consulting (Mumbai)
An accomplished Management Consultant | Specializes in Financial Services | He has engaged with clients in developing their business and operational strategy, digital road-map, designing customer experience, and implementing applications and technology to support their strategy Passionate about trekking and is a marathon runner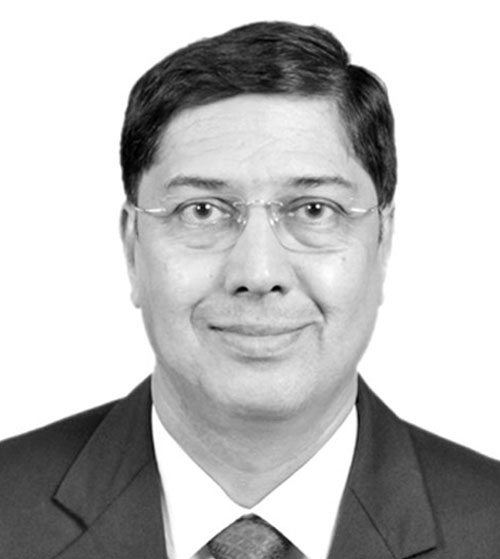 P. Chandrashekar
Founder Director – Business Transformation, MyCFO Practus Transformation Services Pvt. Ltd., Mumbai
35 years post qualification experience with Companies like the RPG Group, DHL, Coca Cola India, Warburg Pincus Invested Companies and IFC Invested Company | As an entrepreneur set up the Business Transformation Practice for MyCFO, involving ge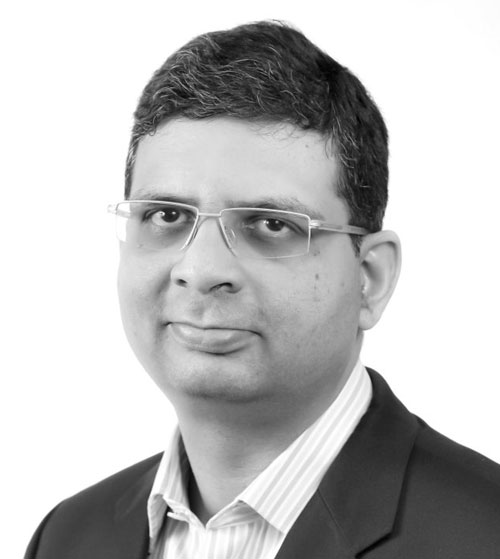 Nirupam Sahay
Senior Vice President and Global Business Leader, Consumer Lamps, Philips Lighting
Regional and global P&L experience in Asian Paints, Whirlpool, GE Capital and Philips Lighting | Successful people manager | Mentor and coach MMS (Marketing) | Avid quizzer | Love reading and travelling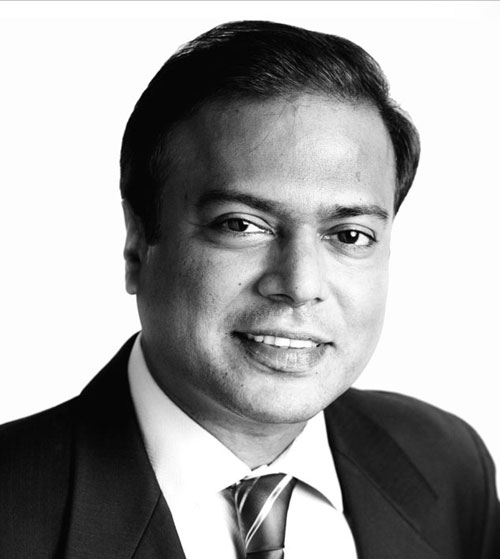 Rajesh Padmanabhan
Director, Group CHRO, Welspun Group
Formerly, Group CHRO, Vedanta and CHRO, Capgemini, Igate-Patni, Oberoi Group and Essel Propack. Senior global HR leader, life coach, trainer and a passionate talent designer.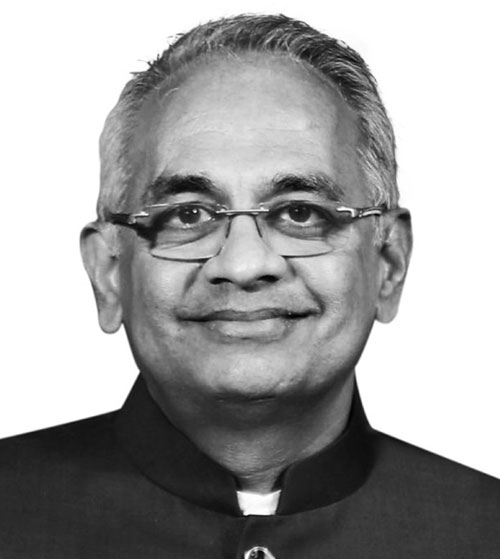 Chief Vijay Nair
Marketing Director, Vink Chemicals GmbH and Co KG, Germany and Unit Head, Vink Corporation, DMCC, Dubai
Honoured with Chieftaincy title of BOBASEGA of OGBALAND for the outstanding service of over 25 years to the Nigerian society and the expatriate community in Nigeria during the stint as the Chief Operating Officer (COO) of Cormart (Nigeria) Ltd.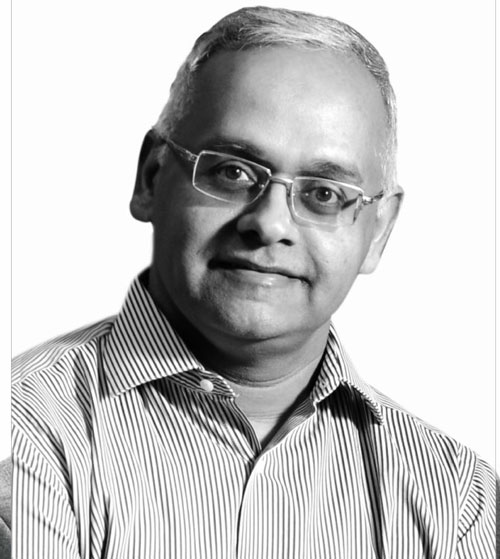 Shridhar Venkat
CEO, The Akshaya Patra Foundation, Bangalore
Akshaya Patra is the world's largest NGO-run mid-day meal programme seving hot nutritious meal to 1.6 million children in 14000 government schools across 36 locations and 12 states of india every school day.
Gaurav Gandhi
Director and Country General Manager for Amazon Prime Video, India
Mr. Gaurav Gandhi, who passed out from NMIMS in 1998 with his area of specialization being Marketing, Advertising and Communications, is presently the Director and Country General Manager for Amazon Prime Video, India. Prior to this, he was the Chief Operating Officer at Viacom18 Media Private Limited and was responsible for the overall digital strategy for the company.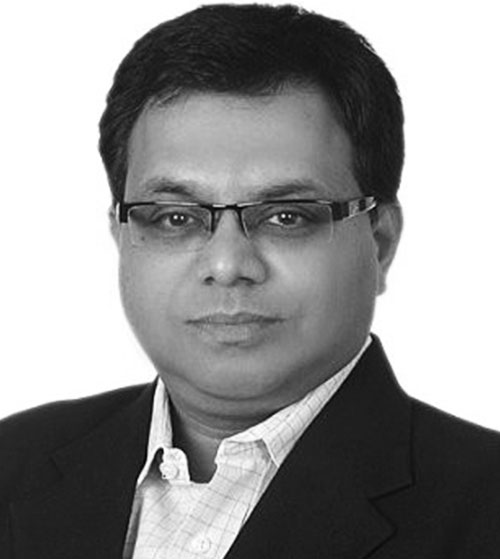 Bunty Rohatgi
Vice President at Reliance Jio Infocom Limited
Mr. Bunty Rohatgi, who specialized in Marketing at NMIMS and passed out in 1995 is currently the Vice President at Reliance Jio Infocom Limited. He is a seasoned and accomplished Business Leader with indelible reputation and over 23 years of diversified experience in delivering inventive sales strategies, driving phenomenal and unprecedented results in terms of revenue, growth across Telecommunications services, smartphones, Consumer Electronics, IT and FMCG.
Ashok Shenoy
Senior Director for Enterprise Manufacturing and Conglomerates at Microsoft
Mr. Ashok Shenoy, who passed out from NMIMS in 1996 with his specialisation in Marketing and International Business, is currently the Senior Director for Enterprise Manufacturing and Conglomerates at Microsoft, India. He has over 26 years of work experience across several industries, with proven managerial, leadership and organizational skills, as well as a track record of delivering consistently impressive business results.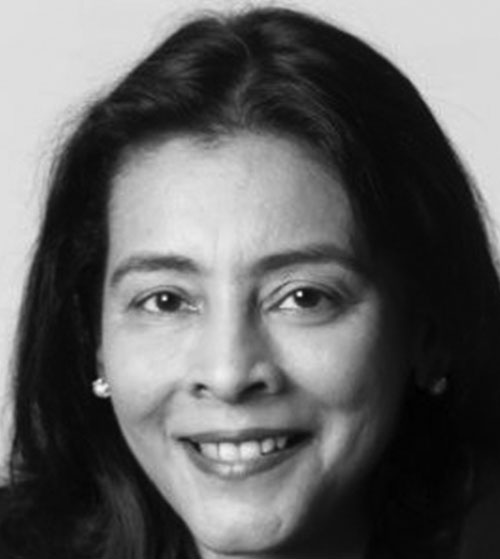 Aruna Jayanthi
Senior Director for Enterprise Manufacturing and Conglomerates at Microsoft
Ms. Aruna Jayanthi is the Managing Director, Asia Pacific and Latin America Business Unit at Capgemini. She is also a Member of the Group Executive Committee. She passed out from NMIMS in 1984 with her specialization in Finance. She was honoured as the Most Powerful Woman in India by India's leading business magazine, Business Today, and is also ranked 4th in the List of 50 Most Powerful Indian Women by Fortune India magazine.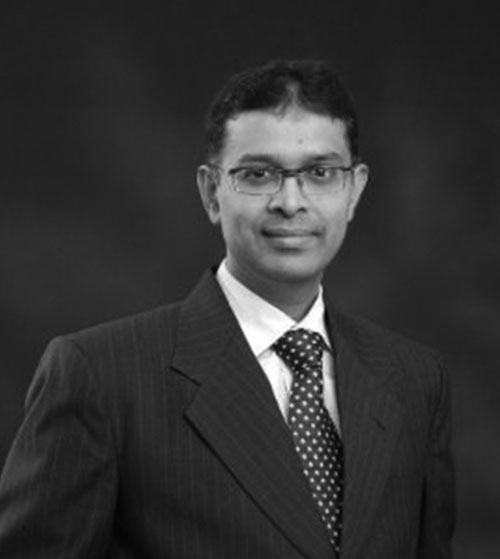 Ajay D'souza
Director of Research and New Product Development at CRISIL
Mr. Ajay D'souza, a pass-out from the 1996 batch, who specialized in Finance, is currently the Director of Research and New Product Development at CRISIL. He has been with CRISIL for almost 17 years and with a 28-year-old corporate experience, has also mentored over 100 Associate Directors and Analysts at the same firm.
SUPPORT and ENGAGE
"WE MAKE A LIVING BY WHAT WE GET, BUT WE MAKE A LIFE BY WHAT WE GIVE."
Alumni play an important role in every business school's growth story. The legacy of a great university is built gradually, brick by brick, student by student. More than anything, a great university just not relies on its faculties and administrators but on the active support of its alumni as well.
School of Business Management, NMIMS Mumbai is grateful to have such a phenomenal alumni base who have come forward, time and again, to support us.
Let us take you through a nostalgic journey about your years at SBM, NMIMS Mumbai. We are sure you remember fondly the amazing time you had, the connections you made, the learning you gathered and the obstacles you finally overcame. The experience you had at SBM would have definitely shaped the career you have today. We encourage you to not let that connection fall apart. You can still play an active role in building the legacy of this institution through your constant support and engagement.
The best reason to volunteer is not only your love for SBMbut also that you believe in what SBM stands for. With your support, we can be a change agent and create a better world for our future batches and ourselves. We would be delighted to strengthen this relationship with you through NMIMS Business School Alumni Network and the Alumni Relations Cell. You could give back to your institution in different ways:
MENTORSHIP
CORPORATE PROJECTS and INTERNSHIPS
CAREER OPPORTUNITIES
GUEST SPEAKER
ADVISORY ROLES
PHILANTHROPY
Fill up this form to help us gauge your interest and reach out to us:-
Alumni Association
Alumni Benefits:
The lifetime membership not only gives you the benefits that have been mentioned below but also provides an excellent opportunity for you to give back by contributing towards the "Lend A Hand" scholarship fund and enabling an individual just like you to achieve his/her dreams.
Lifetime Membership Fees (One Time Payment): Rs 5,000/-
Benefits:
Free entry/subsidized entry charges to all the events organized by the Alumni Association
Unrestricted access to the NMIMS library in all campuses including digital resources through LAN. The Alumni are required to pay a refundable security deposit of Rs 2,000/ which is a one time charge applicable only for issuing books.
A membership ID card and certificate will be issued to all lifetime members.
Free flow of communication among your batch mates and other alumni through posting features like batch notes and forums.
Free access to our Alumni Portal and Database granting comprehensive access to several Job openings/Job postings via Alumni Portal.
Alumni Portal:
The alumni web portal is a platform to keep the alumni informed and derive the benefits of networking events, career opportunities, and a range of exclusive perks. The portal helps the alumni to stay connected to the latest news and updates from the alumni network. The portal also provides access to alumni benefits such as featured interviews of alumni, alumni achievers, magazines, and newsletters. The alumni users get to access the directory of the alumni network to build their professional connections. The portal facilitates access to online job postings which opens up new career opportunities to the alumni.
Click the link to access alumni portal: https://alumnisbmmumbai.nmims.edu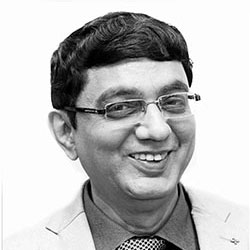 Mr. Ajit Gupte
Association Chairman's Address
The brilliant, steadfast, creative professionals that have walked out the doors of NMIMS and are now contributing across industries, across India and the world, are the bloodline of this fine institution. You all are an inseparable and an integral part of the NMIMS legacy. So it gives me immense happiness to welcome and felicitate the 1996 FTMBA and 1994 PTMBA batch on the occasion of their silver jubilee.
The success story of NMIMS is exemplary and you all are the creators of this story. The idea of having our alumni community close and under our roof to bond over memories while exchanging industry experience is an exciting prospect. This is also a fine opportunity for the institute, where we are dedicated to keeping our course offering and our faculty engaged with the relevant fast-growing world of business.
The Alumni Association Lifetime Membership programme acts as an ideal link for communication between the globally placed alumni and the college. This relationship is nurtured with networking, intellectual interaction, access to database portals, events and many more immersive incentives. The institute can benefit a lot from your guidance experience as well as expertise.
An initiative that we have launched is "Lend a Hand" which has helped us to provide scholarship opportunities to meritorious students. It has helped in transforming the lives of students who have immense potential but find it a challenge to put together the means to fulfil their dreams.
We also have another programme called "Lead The Way" which is a mutually rewarding Alumni-Student mentorship programme. A platform where our esteemed alumni provide guidance to second-year full-time MBA students. It is a way of nurturing the next great leader, shaping him or her with your invaluable experience and insights. This year we had 180 students who had registered for the mentorship program and 104 alumni members to mentor them. I would like to thank all the alumni members for being a part of this program and for providing constant support throughout this endeavor.
Alumni Directory
© Copyright 2013-2020 | Disclaimer | Privacy Policy