Corporate Interface
Overview
Corporate or industry interface is one of the most important features of a business school. The indicators that determine the level of a school's corporate interface are the number of research projects that the school takes up with various industry and professional bodies, the number of field cases written by faculties, the number of live corporate projects and cases undertaken by students and case competitions won by them, the umber of management development programs (MDPs) conducted, number of consultancy projects taken up faculty and the extent to which the curricula is revised an updated to meet the needs of evolving business environment.
SBM has a strong corporate interface and its focus on and performance related to all these indicators have grown consistently over the years. To start with SBM has industry experts participating actively and on a regular basis for the development and review of the course curricula. All programs and areas have their board of studies organized annually. Along with academic experts, the board members comprise industry experts who help in reviewing the existing and new course structures and outlines and help in aligning them to the requirement of business and industry. There are several courses which are jointly anchored by in-house faculty and experts from the industry.
The faculty members are actively engaged in joint research projects and consultancy projects with industry, industry associations, professional bodies and the Government of India. They have regularly been authoring field case studies too. The Centre for Executive Education (CEE) of the school offers variety of customised programs of short duration which are tailor made to suit the needs of customer organizations. They typically range from 3 days to 11 days. CEE also offers long duration programmes of 6 months to corporates. These programs are designed in consultation with the corporate partners after understanding the requirements of the participants and identifying the problems of the organization and the gaps which exist in their performances. The customised learning solutions are then designed and delivered by SBM faculty.
The Industry Institute Partnership Cell (IIPC) of the school focuses on providing a platform for corporate projects and industrial relations where the students can apply the theoretical concepts learnt in the academic life to practical business situations. IIPC provides a plethora of learning opportunities to the students of business in the field of consulting through guest sessions, events, case study competitions, consulting related projects, to name a few. The work profile of IIPC is
Work Profile of IIPC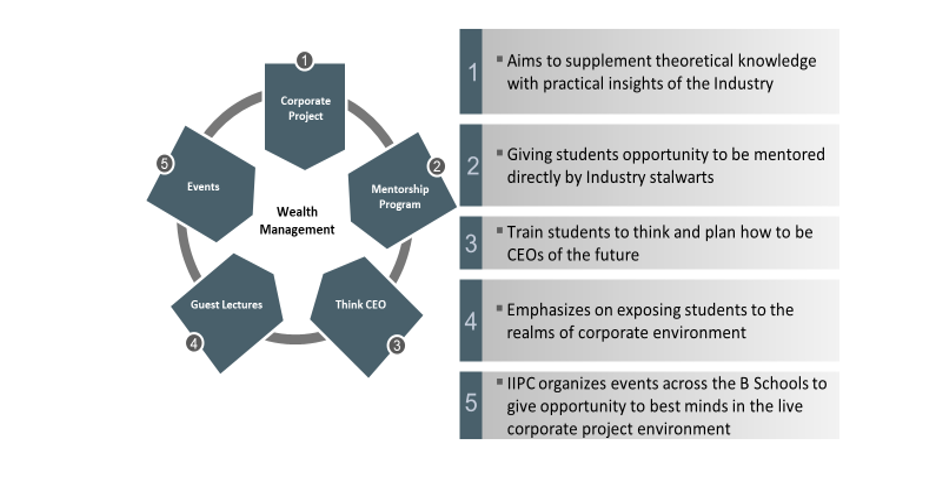 Number of IIPC Corporate Projects (2015 – 2020)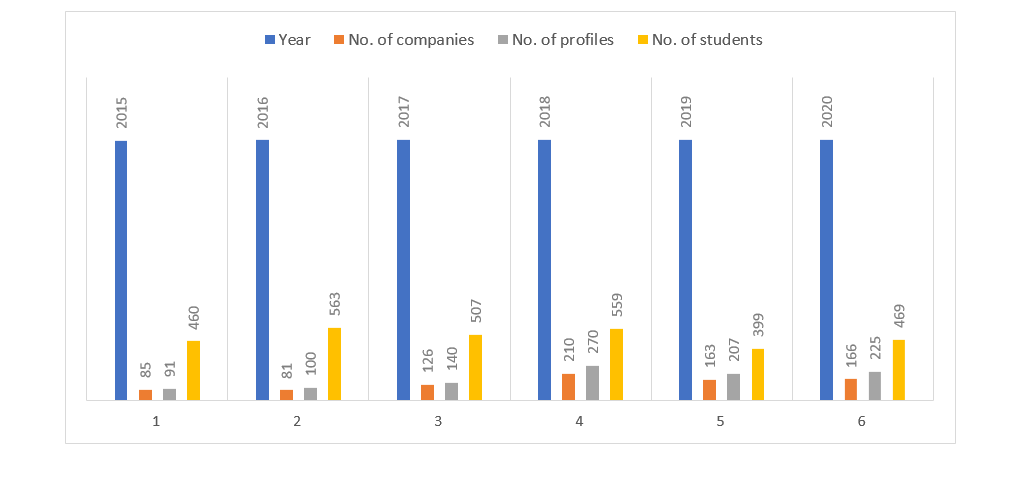 © Copyright 2013-2020 | Disclaimer | Privacy Policy