AOL Assessment helps School of Business Management -NMIMS Mumbai maintain AACSB accreditation and ensure that students are learning.
---
Assurance of learning (assessment) is a process that helps faculty members to perform on their own a structured classroom research to understand the extent to which their students are mastering the learning competencies established by academic programs.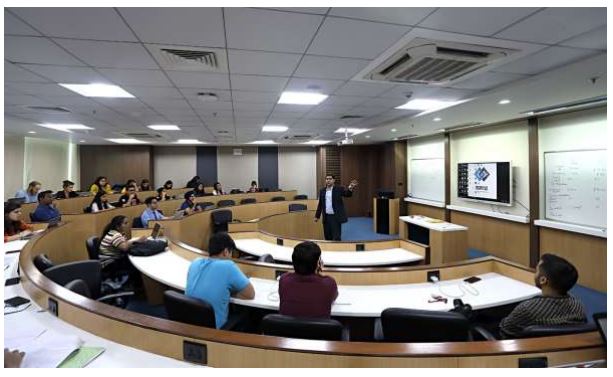 SBM MUMBAI CLASS IN ACTION 2019
The reasons for assessment include the improvement of teaching and learning in individual courses, looking at the pattern of learning taking place across divisions, looking at the extent to which collective efforts are rewarding when multiple instructors are involved in teaching and generation of useful data to decision makers at the program level for improvements in the following year.
This assessment is also part of the requirements for maintaining the School of Business Management's accredited status with the Association to Advance Collegiate Schools of Business (AACSB). SBM NMIMS has entered into the process of re accreditation in 2021. Another major objective is SBM's desire to create a program that is oriented to faculty goals for teaching and fostering collegiate environment for learning.
FRAMEWORK FOR ASSESSMENT
The assessment process can be broken into the following major steps:
1. Define desired learning competencies and outcomes.
2. Align curriculum with competencies.
3. Identify instruments and measures of assessment.
4. Help faculty to improve evaluation methods
5. Interact with team instructors for course development, pedagogical discussions and learning processes suitable to the program.
6. Collect, analyse, and disseminate assessment data.
7. Use assessment data to improve teaching and learning, curriculum, student experiences, and so on.
Although this process is constantly in action at the SBM, in order to manage demands on faculty time, only a few instructors are actively involved in the process at any given time. It is our goal that SBM must both maintain and continue to develop its culture of assessment among the faculty.
ASSESSMENT CAN IMPROVE TEACHING AND LEARNING.
One way to build a culture of assessment is to help instructors see the relationship between their courses and the overarching learning competencies specified by the academic programs in which they teach.
So, each course is aligned to the Program and its overarching goals and in turn to the Mission of SBM namely
The NMIMS School of Business Management nurtures transformational leaders who can responsibly create Stakeholder value with integrity by navigating the ever-changing world of business using critical thinking skills, analytical skills, entrepreneurial mindset, people proficiency and, technology orientation. The school enables a research environment to develop tools and concepts for the advancement of management theory and practice.
At the SBM, all faculty are required to include student learning outcomes in their course syllabi and to relate those outcomes, when appropriate, to the larger program competencies relevant to their courses. When faculty make this relationship clear and explicit, they necessarily begin to see the skills, knowledge, and attitudes students must learn for each class in the broader context of the program in which the course is offered. At the same time, the explicit articulation of student learning outcomes and their relationship to program competencies shows students how each of their courses contributes to the degree toward which they are working
© Copyright 2013-2020 | Disclaimer | Privacy Policy