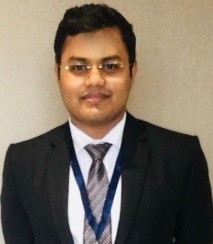 Academic and Professional Qualification:
Ph.D. (Operations Management), IIM Raipur.
B.E. (Mechanical Engineering), Nagpur University (7th Merit)
Honors and Awards
Ph.D. Scholarship for the complete duration of program.
Memberships
Professional: Associate Member of Institution of Engineers & Chartered Engineer (I)
Editorial boards
Courses Taught: NA
Teaching Experience: NA
Teaching and pedagogical Innovations: NA
Industry Experience: Asahi India Glass Ltd.
Service to the University:
Service to the School:
Ph.D. Topic: Industry 4.0 & LSS Adoption in Indian MSMEs for Sustainable Operations
Research Interest: Industry 4.0, Lean Six Sigma, Circular Economy, Supply Chain Finance, Sustainability.
Recent Publications:
[1] Khanzode, A. G., Sarma, P. R., Mangla, S. K., & Yuan, H. (2021). Modeling the Industry 4.0 adoption for sustainable production in Micro, Small & Medium Enterprises. Journal of Cleaner Production, 279, 123489. [ABDC- "A"; ABS-2]
[2] Khanzode, A. G., Sarma, P. R., Goswami, M (). Modelling interactions of Select Enablers of Lean Six Sigma considering sustainability implications: An integrated circular economy & Industry 4.0 perspective. Production Planning & Control , --, -- [ABDC- "A"; ABS-3]
Books: NA
Book Chapters: NA
Refereed Journal Articles:
[1] Khanzode, A. G., Sarma, P. R., Mangla, S. K., & Yuan, H. (2021). Modeling the Industry 4.0 adoption for sustainable production in Micro, Small & Medium Enterprises. Journal of Cleaner Production, 279, 123489. [ABDC- "A"; ABS-2]
[2] Khanzode, A. G., Sarma, P. R., Goswami, M (). Modelling interactions of Select Enablers of Lean Six Sigma considering sustainability implications: An integrated circular economy & Industry 4.0 perspective. Production Planning & Control , --, -- [ABDC- "A"; ABS-3]
Fellowship: INR 35000 per month for 4 years (June 2017 to June 2021)
Grant: NA
Case Studies Published
Research in Progress
Industry 4.0 Technologies for manufacturing flexibility and sustainable performance in MSME [Sending to ABDC 'A' journal soon]
SCF Adoption models, enablers, barriers for investments in Industry 4.0 [Working Paper]
© Copyright 2013-2020 | Disclaimer | Privacy Policy