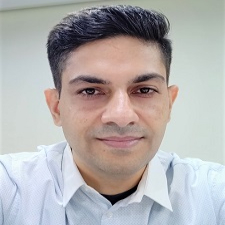 Arun Sharma
Assistant Professor
Academic and Professional Qualification
Ph.D. (Fellow) – NITIE, Mumbai (2018)
Summer School - IIM Ahmedabad (2014); FDP - IIM Indore (2011)
MBA - IBS Hyderabad (2008); Major: Marketing
B. Tech. - Punjab Technical University, Jalandhar (2002); Major: Electronics and Communication
Teaching and Industry Experience:
Area Chairperson (Marketing Department) and Assistant Professor: School of Business Management, NMIMS (Aug 2016 to Present).
HOD (Marketing Department): PIBM, Pune (Feb 2016 – Aug 2016).
HOD (Retail Marketing and Management Department) and Area Coordinator (Marketing Department): ITM, Kharghar, Navi Mumbai (July 2010 - Feb 2016).
Entrepreneur: Started and operated own venture - "Punch" in Navi Mumbai (June 2009 to July 2010).
Service Manager (Hypercity Retail): Worked in Marketing, Store Operations and Store opening team (May 2008 to June 2009)
Lecturer, VESIT, Chembur, Mumbai (Jan 2003 - May 2006).
TEACHING/COURSE TAUGHT
Neuromarketing

Consumer Behavior

Design Thinking & New Product Development
Pricing Strategy

Marketing Research and Analytics

Retail Management
Expertise and Research Interest
Research Interest: Consumer Neuroscience and psychology, Behavioral Economics and Experiential learning.
No. of citations –
Google Scholar-5
ORCID number: https://orcid.org/0000-0003-0260-1558
Selected Publications
Arun Sharma, Shreekumar K. Nair, (2017), Switching Behaviour as a function of number of options: How much is too much for consumer behaviour, Journal of Consumer Behaviour, Wiley Publication, Vol 16, Issue 6, pp. 153-160, (O) 1479-1838.

ABDC "Category A", (Impact Factor 1.708).

Arun Sharma, Shreekumar K. Nair, (2018), Feature Complementarity and large assortments: Role of Feature Complementarity in Developing Product, NMIMS Management Review, NMIMS University, Vol. 35, Issue.2, pp. 109-121,0971-1023, UGC, Web of Science, Cabell's International.
Bharat Mani, Vineet Nayak, Arun Sharma (2020), Asha Handicrafts: Redefining The Value Proposition Strategy, Ivey Publishing.
Conferences and Workshops
Developed an experiential Learning method: "Maverick" for MBA students. This method was implemented and improved for over 5 years. A research paper on it was presented at IIM Lucknow International Conference in 2014.
Attended "ISB-Journal of Marketing" Research Workshop at ISB Hyderabad Campus in Jan, 2020.
Other Professional Details
Conducted various training and other projects with reputed organizations like Reliance Group, L&T, Raymond, Pantaloons Retail, VFS Global, Edelweiss Group, and ICICI Prudential.
Invited by reputed organizations like NASSCOM and ONGC for panel discussion and other assignments.
© Copyright 2013-2020 | Disclaimer | Privacy Policy