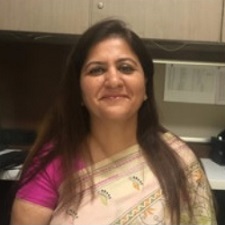 Hema Bajaj
Associate Professor
Academic and Professional Qualification
Ph.D., Tata Institute of Social Sciences, Mumbai, 2010
Topic : HR Integration in Mergers and Acquisitions: A Study of the Process and its Determinants
M.Phil, Tata Institute of Social Sciences, Mumbai, 2008
Topic: The Process of HR Integration in Mergers and Acquisitions
M.B.A., 1997, Agra University
Major: Marketing and HRM
B.SC., 1994, Agra University
Major: Zoology, Chemistry and Botany
Industry Experience
Assistant Manager - Incentive Travel at Kuoni Travels, Mumbai, 1999-2001
Management Trainee at Panacea Biotec Limited, New Delhi, 1998- 1999
Ph.D. Topic
HR Integration in Mergers and Acquisitions: A Study of the Process and its Determinants
Research Interests
Employee Engagement
HR Challenges and Integration in Mergers and Acquisitions
Employee Happiness,
Perceived Organizational Support and Organizational Justice.
Recent Publications
Refereed Journal Articles
Bajaj, Hema and Krishnan, Venkat R. (forthcoming). Role of Justice Perceptions and Social Exchange in Enhancing Employee Happiness. International Journal of Business Excellence (http://www.inderscience.com/info/ingeneral/forthcoming.php?jcode= IJBEX)
Bajaj, Hema and Krishnan, Venkat R. (2014). Perceived Organizational Support and Affect: The Moderating Effect of Locus of Control. Great lakes Herald, 8 (1): 22-31
Bajaj, Hema (2012). HR Integration In Mergers and Acquisitions: Impact of Relative Size and Performance of the Combining Organizations. Great Lakes Herald, 6(1): 1-15.
Bajaj, Hema. (2009). Significance of Organization Culture in Mergers and Acquisitions –A Case of Acquisition of an Old Private Sector Bank by a New Private Sector Bank. Indian Journal of Industrial Relations, 45(2):229-242.
Research in Progress
Bajaj, Hema (under review). 'Corporate Governance: At the Crossroads?' in 'Governance and Governed: Multi-Country Perspectives' Research Initiative of Tata Institute of Social Sciences and London School of Economics. Cambridge University Press.
Bajaj Hema and Krishnan, Venkat R. Employee Engagement: Role of Leader-Member Exchange, Core Self-Evaluation and Job Satisfaction. Accepted for the forthcoming (December 11-13, 2015) Indian Academy of Management Conference.
Bajaj, Hema and Srivastava, Deepak K. (Writing Stage) Employee Engagement Case Study at a Leading Organization in the decorative paint segment.
Bajaj, Hema (Writing Stage), Employee Engagement and Happiness: Role of Organizational Support.
© Copyright 2013-2020 | Disclaimer | Privacy Policy