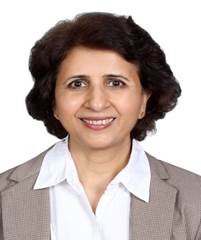 Jacqueline P Mundkur
Academic and Professional Qualification
Doctorate in Business Administration (DBA), SP Jain Global School of Management, Sydney, Australia, 2021
MMS Marketing, KJ Somaiya Institute of Management Studies, 1991
MSc Biochemistry, Institute of Science (University Rank 2nd), 1987
BSc Life Sciences and Biochemistry, St Xavier's College, (Rank 2nd TY BSc), 1985
Memberships
Professional

CSIA (Australia), ICS - Institute of Customer Services (UK), CX Network, CXPA (Customer Experience professional association), US.
Editorial boards

Member of Board of Studies of Executive PGDM Program – VESIM Business School
Retail Board of Studies – KJ Somaiya Institute of Management Studies
Subjects of Interest
Retail Management, Integrated Communications Management, Distribution Management, Sales Management, B2B Management, Digital and technology Integration into Customer Experience and Marketing Programs, Digital CX, Acquisition, Loyalty and Retention Programs
Teaching Experience
Visiting Faculty KJ Somaiya Institute of Management Studies (SIMSR, Mumbai)
Visiting Faculty NM Institute of Management Studies (NMIMS, Mumbai)
Guest Lectures in Marketing, Retail and CRM at Management Institutes UOW (University of Wollongong) UAE and, Dubai University UAE: 2016 IITM Delhi (Jul 2018), BIMTECH (Aug 2019), NIFT (Gandhinagar May 2019) NITIE (Powai Feb 2020), Symbiosis Institute of Management, Pune (Dec 2019), BIMTECH (July 2019), IIM (Indore- Mumbai campus), August 2019, JBIMS (March 2021).
Industry Experience: 25+ Years
The NXT Levels Consultancy, Founder, March 2020
Transaction Square LLC, Senior Business Advisor – Retail and Consumer Practice, April 2019 to Feb 2020
The Future Group, Group Head – Customer Service, April 2016 to March 2019
General Manager- National Head Retention (Aug 2015-Mar 2016)
General Manager - Customer Services (Sep 2010- July 2015)
Head -Retention and Relations (2006 to 2009)
Head - Retail (2009-2010) Operations.
BPL Mobile (Later Loop Mobile), Head- Corporate Sales From 2004 -2006
AFL Ltd (DHL International and AFL Domestic Freight and Courier Divisions) Aug 2000 – 2004
Borosil Glass Works Ltd, Marketing Manager From 1995 -2000
Tiffany Foods Ltd Location - Sharjah UAE/ Pan GCC, Product Manager-1994
Product Manager - Air conditioning business Division
Area Sales Manager (Maharashtra & Goa) & Brand Manager - Pharmaceutical and Consumer Products Division
Ph.D. Topic
Antecedents and Outcomes of the Manufacturer-Salesperson's Job Satisfaction and Customer-oriented-Behavior in a Partially Integrated Channel in India
Research Interest: Retailing, Organisation Behaviour, Distribution
Recent Publications
Paper presented in Conference
The Dual-Controlled Manufacturer Salesperson who operates within a Partially Integrated Channel: Is there a double impact? Full Paper presented at the British Academy of Management (BAM) Conference, Conference in the Cloud, 2-4 September 2020 (Online Conference). (ISBN: 978-0-9956413-3-4).
Examining the Manufacturer Salesperson's Role within a Partially Integrated Channel in India. Full Abstract and Paper presented at the 15th Global Marketing Conference, K. J. Somaiya Institute of Management Studies and Research (SIMSR), Mumbai, India, 23-24 January 2020. (ISBN 978-81-936405-3-1).
A Qualitative Study to Understand the Role of the Manufacturer Salesperson within a Partially Integrated Channel. Paper presented at the Architecting Indian Management Scholarship in an Era of Disruption Conference, the 6th Biennial Indian Academy of Management Conference (INDAM), Indian Institute of Management, Tiruchirappalli, India, 2-4 January 2020.
Book
Case Studies
Jacqueline P Mundkur, Ranjan Chaudhari, (2022-23), Convencio: CRM strategy to power Loyalty Programs, The Case Centre
Book Chapter
Jacqueline P. Mundkur, Ranjan Chaudhari, (2021-22), Chapter 8 Ecommerce: Create Fashion Crafts uses customer insights to reduce returns, Himalaya Publishing House Pvt. Ltd., Book: Case studies in Business Management - An Indian Perspective VOL II, ISBN: 978-93-5495-627-0, pp 61-73
© Copyright 2013-2020 | Disclaimer | Privacy Policy