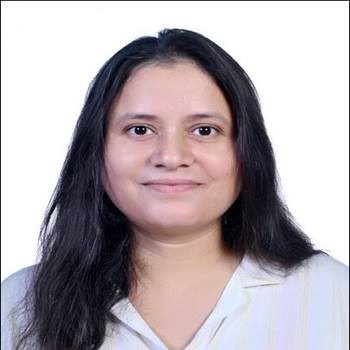 Pratistha Chandra
Assistant Professor
Email : pratistha.chandra@sbm.nmims.edu
Academic and Professional Qualification
Ph.D., IIT Bombay and Monash University, Australia, 2018-2023 (Joint Ph.D. degree)
MBA, Indian Institute of Information Technology, Allahabad (IIIT-A), 2015-2017
B. Tech., IMS, Ghaziabad, affiliated to Dr. A.P.J Abdul Kalam Technical University, 2006-2010
Research Experience:
Ph.D. research at IIT Bombay and Monash University, Australia

Seed Innovator with the Suzuki Innovation Program, a collaboration of Suzuki Innovation Center, IIT Hyderabad and IIM Ahmedabad (July 2023 to Sep 2023)
Building Startup "Rebox" (ongoing) - Proposed innovative idea, Start-up development from seed idea (market research, Minimum viable Product development, customer validation etc., Start-up pitching)
Industry Experience:
Systems Engineer, Infosys Technologies Limited on Mobile Application development and support projects for Apple Inc. and The Boeing Company (2010 to 2015).
Ph.D. Topic:
Sustainability based Strategy Planning using Multiple Criteria Decision Making.
Research Interest
Decision-making, Strategy Planning, Sustainability, Information Systems and Technology, E-commerce, Data science and Artificial Intelligence.
Recent Publications
Book Chapters

Pratistha Chandra, Pankaj Dutta and Chung-Hsing Yeh (2022). Role of E-commerce coupled with digital technology during COVID-19 crisis in Asia. Book chapter published in changing face of E-commerce in Asia, World Scientific Forum, 359-387. org/10.1142/9789811245992_0018
Refereed Journal Articles
Pratistha Chandra, Chung-Hsing Yeh and Pankaj Dutta (2022). Managing strategies for mitigating interacting barriers to sustainable online e-waste collection platforms in India. Published in Benchmarking: An International Journal. doi.10.1108/BIJ-12-2021-0776. ABDC type: B.
Pratistha Chandra (2017). Strategic fit between IT Infrastructure and marketing strategy of Amazon. Published in International Journal of Research in Engineering, IT and Social Sciences, Link : http://www.indusedu.org/pdfs/IJREISS/IJREISS_1228_67375.pdf
Paper presented at International conferences
Pratistha Chandra, Chung-Hsing Yeh, Pankaj Dutta, (2022). Managing strategies for mitigating barriers to a sustainable electronic National Agricultural Marketplace (eNAM) platform in India, 12th CERE conference, IIM Indore, India in June 2022.
Pankaj Dutta, Hiren Rathod, Shanil Soni, Pratistha Chandra, (2019), Personalized Product recommendations on E-Commerce websites with the use of social media, Proceedings of 9th International Conference on Industrial Engineering and Operations Management (IEOM), Bangkok, Thailand, December 2018, 3255-3266.
© Copyright 2013-2020 | Disclaimer | Privacy Policy