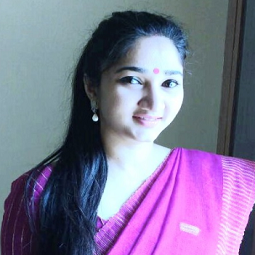 Sonali Narbariya
Assistant Professor at School of Business Management, NMIMS Mumbai.
Phone : (022) 42355672
Email : sonali.narbariya@nmims.edu
Academic and Professional Qualification
PhD (SHRM and Change Management), IBS Hyderabad.
Additional Qualifications
Executive Development Certification in HR Analytics, XLRI Jamshedpur
Behavioural Events Interviewer's (BEI) Certification, TATA Consultancy Services
Organizational Development and Change in 21st Century (FDP Certification NPTEL)
TEACHING/COURSE TAUGHT
Leadership & Managing Change.
Managing Strategic Change.
Digital HRM.
Organizational Behavior and People Analytics.
Teaching Experience
Ph.D. Topic
A study on the Impact of High-Performance Work Systems on Readiness for Change amongst IT Sector Employees in India: An Empirical Analysis'
Honors and Awards
Best PhD Scholar under the aegis of 'Mahesh-Eshan Recognition for Research Pursuits Award' conferred at the IFHE Convocation 2022.
Best Paper Award at AIMS Conference- 2020
Thomson Reuters Star Program Award- 2016
Nominated for Thomson Reuters ACE Program (Step up to Lead)-2016
Best Team Award for the quarter II, Talent acquisition, Thomson Reuters- 2016
Gold Stevie Award, for best HR Department of the year, TCS- 2015
Industry Experience
5 years 6 months (Thomson Reuters, TCS and J.P. Morgan C&IB)
Expertise and Research Interest
Individual and Organizational Change Readiness for Digital Transformations
Recent Publications
(last five/six years)
Narbariya, S., Nayeem, M.A. and Gupta, R., 2022. Does HPWS amplify employees' change readiness for digital transformation? A study through the "work-from-anywhere" prism. Personnel Review, 51(8), pp.1948-1966. ABDC- A and Scopus
Narbariya, S., Subramani, A.K., Jan, N.A. and Ramaiah, T.S., 2023. Does individual motivation amplify learning amongst business management students in India? A digital learning perspective. International Journal of Management in Education, 17(2), pp.207-229. Scopus
Shaheen, M., Shukla, K., Narbariya, S., Subramani, A.K. and Jan, N.A., 2022. Can Human Capital Promote Self-Leadership? A Study on the Contingent Marketing Workforce of India. Academy of Marketing Studies Journal, 26(2). ABDC B and Scopus
Azam, M.S., Shaheen, M. and Narbariya, S., 2019. Marketing challenges and organic farming in India—Does farm size matter? International Journal of Nonprofit and Voluntary Sector Marketing, 24(4), p.e1654. ABDC B and Scopus
Narbariya, S., Shaheen, M., and Arya, A., 2023. Does Generational Cohorts Effect Student's Self Efficacy? The Moderating Role of Social Support. International Journal of Business Excellence. (Forthcoming). Scopus.
News Paper / Web Articles / Book Chapters
(last five/six years)
Book name: 'The Evolution of Human Resource Management,' Chapter 17: Structure (ISBN: 978-93-92377-54-9)
Book Name: 'The Evolution of Human Resource Management,' Chapter 19: Managing Careers (ISBN: 978-93-92377-54-9)
Reviewed Articles for journals
Frontiers in Psychology

Personnel Review

Business Perspectives and Research
Scholarship
Awarded IFHE scholarship with stipend for 4 years as a full time PhD Scholar,2017-2021.
Government Project
Designed a psychometric tool for National Backward Class Finance & Development Corporation (NBCFDC), a Govt. Of India Undertaking, under the aegis of Ministry of Social Justice and Empowerment as a Research Associate at IIM Indore, 2021.
© Copyright 2013-2020 | Disclaimer | Privacy Policy