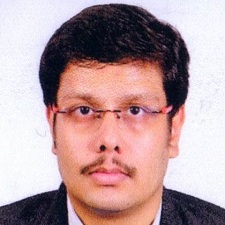 Subhashis Sinha
Professor of Practice
Email : subhashis.sinha@sbm.nmims.edu
Academic and Professional Qualification
Full time Post Graduate in General Management, HR and Analytics from NMIMS (2011)
Economics Honours with Statistics and Mathematics from Narendrapur RK Mission Residential College, Calcutta University, 2000
Additional Qualifications
Associate Certified Coach (ACC) eligibility requirements completed as per International Coaching Federation – (ICF -2020), MBTI, Hogan Coach, Advanced Facilitation Skills (Thiagi), Gestalt OD Practitioner Certification.
Life Underwriters Training Certification Fellow from American College (LUTCF)-Certified Moderator
Teaching Experience:
Visiting Faculty at IIM Lucknow since 2014
Visiting Faculty at NMIMS, Mumbai since 2021
TEACHING/COURSE TAUGHT
Change Management & Culture Building| Designing Work Organizations.
Performance Management, Talent Management & Succession Planning.
Learning & Development /Organizational Development.
Diversity and Inclusion.
Industrial Relations & Compliance.
Leadership Development.
Industry Experience
With close to two decades of corporate experience in multi-cultural environments, across services and manufacturing organizations, both in MNCs and Indian organizations, Subhashis has worked with a wide network of practitioners and academicians around the world. He began his career in sales and marketing before choosing to specialize in leadership, talent management, organization development and change. He has particularly enjoyed working in the areas of leadership transitions and development, M&A integration, cultural assimilation, succession pipeline building and strengthening the pillars of culture. An abiding interest in the power of storytelling and the future of work kept his ears to the ground in helping organizations use technology and establish people processes for modern workplaces. As an executive coach & organizational change consultant, he has worked with senior leaders (CXO,CXO-1-2) of Asian Paints and its group companies . To this end he used a myriad weave of tools such as Design Thinking, Process Facilitation, Lego Serious Play, Appreciative Inquiry etc. In his last role he was the CHRO for TBZ-The Original and before that he was the Head of HR for Asian Paints Home Improvement business and had led the Leadership Development, DEI and Technology Enabled practices for Asian Paints and its International business units. He was also the Head of HR for Asian Paints' oldest plant and had played a key role in the merger of 2 plants catering to different lines of businesses and designed and implemented the Long Term Settlement anchored on the Group Settlement Processes.
Expertise and Research Interest
Workplace inclusion of persons with disabilities, Workplace Loneliness, Leadership, Job Performance, Organizational Culture, Voice Behaviour, Future of Work
Recent Publications
(last five/six years)
Subhashis Sinha, Nikunj Kumar Jain, (2022), The jury is out – Can the HR managers be the choice architects in a post-pandemic work setting?, Journal of Organizational Change Management, Emerald Insight, ISSN: 0953-4814, Vol. 35 No. 1, pp. 165-168, ABDC-B, Scopus, Web of Science, https://doi.org/10.1108/JOCM-09-2021-0284
Abinash Panda, Subhashis Sinha, Nikunj Kumar Jain, (2022), Job meaningfulness, employee engagement, supervisory support and job performance: a moderated -mediation analysis, ISSN: 1741-0401, International Journal of Productivity and Performance Management, Emerald Insight, Vol. 71 No. 6, pp. 2316-2336, ABDC-B, Scopus, Web of Science, https://doi.org/10.1108/IJPPM-08-2020-0434
News Paper / Web Articles
(last five/six years)
Economic Times Article Zelenskyy's tryst with destiny: Is there a lesson for organizational leaders?, HR News, ETHRWorld (indiatimes.com)
People Matters Article Blog: Introverts: For whom the 'bell' tolls louder than others — People Matters
CNBC Article 2 View: A Racialised Pandemic And Its Necropolitical Aftermaths (cnbctv18.com)
CNBC Article 1 Celebrities' Suicides Stoke Concerns Of 'Werther Effect' (cnbctv18.com)
Conference Paper Presented
IIM Bangalore Future of Learning Conference, 2016 "War stories behind the Fire wall "

IIM Ahmedabad,2015 (Pan IIM conference) "Role of Stories and Social Technology in Creating Shared Understanding and Organizational Value"

ANZAM (Australia New Zealand Academy of Management, Sydney, 2014) "Did the Indian Life Insurance Industry overlook a key Leadership Issue? An exploratory study investigating the Role of Shared leadership with reference to the Top Management Issues"
Case Studies Published
Sinha, S., Jain, N. K., Singh, S., & Nambudiri, R. (2023). Asian Paints Company Limited: post-merger and acculturation challenges. Emerald Emerging Markets Case Studies, 13(2), 1-23, https://doi.org/10.1108/EEMCS-04-2022-0141
Nikunj Kumar Jain, Subhashis Sinha, N.S. Iyer, (2018), Industrial relations (Union) issues at Asian Paints Ltd., Emerald Insight, Vol. 8 No. 2. https://doi.org/10.1108/EEMCS-05-2017-0086
© Copyright 2013-2020 | Disclaimer | Privacy Policy